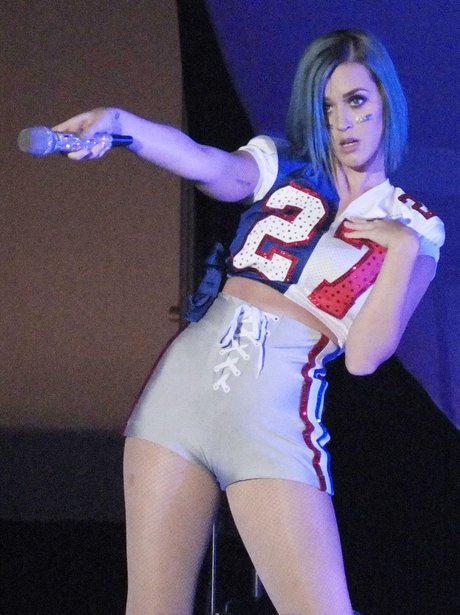 Katy Perry To Perform 2015 Super Bowl
Get excited Katy Cats – it looks like our girl has just landed one of the biggest gigs EVER.
Rumors are swirling that Katy Perry will be performing at the Super Bowl half time show in 2015, and we are REALLLYYY hoping this is true because KP knows how to put on a show.
Now, again, this isn't 100% confirmed, but it appears as though the NFL is getting their wish, because a few months ago they had reportedly narrowed the possible half time performers down to Rihanna, Coldplay, and Miss Katy Perry. However, there was a bit of controversy surrounding the choosing of the half time act since the NFL essentially wanted the artist to PAY in order to take the stage.
Katy spoke out against that earlier this week when she stopped by College GameDay and said that she's quote "not the kind of girl to pay to play the Super Bowl." Interesting. Maybe she was just trying to throw us off? Sneaky, sneaky. But if I'm being honest with you guys here – the ONLY reason I personally ever watch the superbowl is to see someone like Madonna or Beyonce perform.
Anyways, if you were hoping for someone else, don't fret because there's a solid chance Katy will have some kind of special guest take the stage with her. Remember how last year Bruno Mars brought out Red Hot Chili Peppers? And when Destiny's Child joined Beyonce in 2013? All we know is that if this does happen, it is BEYOND perfect and we're already excited.
The Katy Perry Bowl…I mean the Super Bowl, will take place on Sunday February 1, 2015 in Glendale, Arizona. And obviously, we have no idea who will be playing, but last year it was the Denver Broncos vs the Seattle Seahawks.
Do you think Katy is the right choice? Or is there someone else you would have maybe liked to see take the stage? It's ok, you can tell us, we're all friends here. Also check out Bruno Mars epic 2014 Super Bowl performance